Emma Saturday
Writing Tutor Coordinator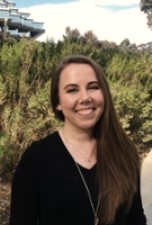 9500 Gilman Dr
Mail Code: 0175-W
La Jolla , California 92093
Responsibilities
Writing Experience
Bio
Responsibilities
Designs and runs ongoing undergraduate consultant trainings and orientations

Oversees consultant observation and performance feedback

Coordinates undergraduate consultant hiring and training

Manages undergraduate staffing and enforces staff policies and procedures

T

racks and integrates trends in recent writing center and composition scholarship

Assists in graduate consultant hiring, training, and performance feedback

Assist in the development and implementation of undergraduate workshops
Writing Experience

Talk to Me About
Writing center theory and practice
Composition and rhetoric
Writing-focused undergraduate research
Effective strategies for collaboration
Navigating early career transitions (undergraduate to graduate school; graduate school to career)
Why Writing Matters to Me (and Why I Think it Should Matter to You)
As an undergraduate, I originally believed that I chose to major in English because of my love of literature. However, I quickly realized that my true interest in my studies stemmed from the joy (and frustration) I experienced while critically interrogating my own thought processes through writing.
Like many writers, I enjoy talking and thinking about writing more than I enjoy the act of writing itself. My conversations with other writers and students about their own writing experiences remind me, though, of the capacity for writing to serve as a tool for thinking and learning—one that allows for deeper reflection and often results in the discovery of new ideas. This generative process is what sustains my interest in writing today. I believe the hidden value of writing often lies in its ability to help you see new perspectives, ask new questions, and explore new ideas, and I look forward to opportunities for such engagement in my future professional and academic work.
Bio

Emma Saturday is the Writing Tutor Coordinator in The Writing Hub. Prior to joining the Teaching + Learning Commons, Emma worked as a graduate writing tutor at San Diego State University, where she completed a Master's degree in Rhetoric and Writing Studies with a specialization in the Teaching of Writing. Emma also worked for 3 years as an undergraduate writing tutor at the University of La Verne, where she earned a Bachelor's degree in English.

Emma's tutoring experience has been complemented by her involvement in the International Writing Centers Association (IWCA). As an undergraduate, Emma served as the organization's first Peer Tutor Representative on the Executive Board. In October 2018, Emma was awarded the IWCA President's Future Leaders Award in recognition of her contributions to the field of writing centers and the future work she hopes to complete.

Emma's understanding of tutoring and learning centers is largely informed by the opportunities she received as an undergraduate student. While completing her undergraduate degree, Emma co-designed tutor education programs; presented research at regional, national, and international conferences; mentored new writing tutors; and contributed to data-led initiatives to improve tutoring services. These experiences proved to her the ability for writing-support units to foster inquiry and innovation among students, faculty, and staff. Emma hopes to bring her multifaceted experience to The Writing Hub to support students in their academic and professional development.