Maggie Thach Morshed
Senior Tutor Coordinator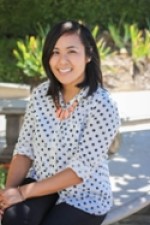 9500 Gilman Dr
Mail Code: 0175-W
La Jolla , California 92093
Responsibilities
Writing Experience
Bio
Responsibilities
Undergraduate consultant hiring, training, and performance feedback
Coordinates ongoing undergraduate consultant trainings and orientations
Oversees undergraduate consultant schedules and professional development
Designs and implements consultant staff policies and procedures
Liaison to College Writing Programs
Liaison to undergraduate advisors, campus units, and student organizations
Develops and runs undergraduate writing workshops 
Oversees undergraduate student outreach and marketing
Writing Experience

Talk to Me About
Why it's important to ask good questions and how to do so
How to cultivate mentors
Immigrant stories and narratives
Sports Writing
Teaching English abroad
Duties and responsibilities of being a first-gen student
Why Writing Matters to Me (and Why I Think it Should Matter to You)
As a child, I hated talking in front of people. I hated when my teachers called on me to give an answer in front of the class. I hated when my parents asked me to talk about myself in front of their friends. Part of this was temperamental—I was a very reluctant and timid child. But another part of it was because my brain was constantly oscillating between Vietnamese (my first language) and English (my better language). Talking was an opportunity for me to trip up, to be unclear and confusing. But writing allowed me room to explore my thoughts and take time with my words. Writing became a place of solace for me. Writing has been a guide throughout my life. When I'm going through something difficult, I often find myself writing through it. It has also guided me in my professional life, too. I have been a sports reporter, freelance writer, fact-checker, Peace Writer, Literature teacher, and now, a writing center professional.
Bio

All of Maggie's professional endeavors have revolved around writing. Upon graduation from Fresno State, she became a journalist at the largest daily newspaper in Utah. Covering high school, collegiate, and professional sports, she became an award-winning sports reporter at The Salt Lake Tribune. In 2011, she shifted her focus from journalism to creative nonfiction writing and received an MFA from UC Riverside's low-residency program. Her writing revolves around immigration, assimilation, and identity. 

In 2015 and 2016, she was a peace writer for the renown Women PeaceMakers Program at the Kroc Institute for Peace and Justice. The program documented the stories and best practices of women leaders and grassroots activists who worked to change the social climate of their environments. Maggie has worked with South Africa's Glenda Wildschut, who was a vital member of the Truth and Reconciliation Commission after the fall of apartheid, and Kenya's Jane Anyango, who works to provide educational opportunities to girls in sub-Saharan Africa's largest slum settlement.

While completing her master's, Maggie was an English and literature teacher in Seoul, South Korea. After coming back to America, Maggie became a humanities instructor and ACT/SAT teacher at various educational start-ups here in San Diego. Teaching grammar and critical analysis have greatly informed her writing and her work.