Consultant Success Stories
Our undergraduate and graduate student writing consultants are indispensable members of our team. We invest in our consultants' education and aim to create a work environment that is intellectually engaging and community-oriented. In turn, we expect our consultants to be curious, reflective, intentional, and engaged with their work. The result is a community of consultants with deep connection to their work with students, the Writing Hub, and the campus.
---
Samirah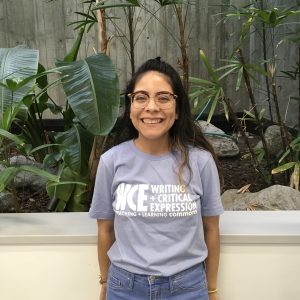 I think I have really learned about the greater importance of our work as tutors. I think I also learned to be humble, because writing is a very personal process and there is so much going on in people's lives that one cannot simply judge based on a 30 minute session. The biggest message I got from this job is the idea that almost everything is interconnected, and one small thing, like focusing on content over grammar, may seem like a small step but can really make an impact in changing the system.
I feel like I have gained more confidence as a writing tutor, not only as a professional, but as a human. I realized that while being humble is important, being confident and comfortable with yourself and your abilities is just as important in reaching improvement at work. Outside of work, I have really realized the importance of boundary setting in making a working space be as comfortable as possible.
I am very thankful for this job. I feel like I learned a lot about collaboration and education, and I especially learned about myself and how I work as a professional and as a human. 
---
Alisa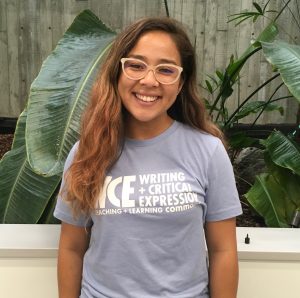 I feel like the things I've learned in the past three years as a Writing Hub consultant have become so integral to myself that I can't remember what I was like before. I think I'm more empathetic, thoughtful, and I think more about the perspectives of people who are less privileged. I've learned to value clear communication over precise grammar.
As a person, I really think that being a tutor has instilled a deeper sense of kindness in me because thinking of being in my students' position made me more aware of my interactions with them. I loved being able to help students feel confident and take pride in their work. I loved being able to learn about a bunch of different topics I never would have discovered. Being a writing tutor introduced me to so many students at UCSD, from other tutors, to other T+LC staff, to students, which reinforced my love for this school and community. Also, having the Writing Hub as a "home base" for most of my college career gave me a constant in my life that even though it was technically work, it also served as a great support system.
As a professional, I've learned what kind of workplace and relationship with my coworkers and bosses I want to have. I've learned how to navigate friendships with coworkers in a way that is both professional and sincere. I've developed a lot of interpersonal skills that I didn't immediately recognize as being helpful in my career as a software engineer, but have set me up for success in any team or work setting. I've also learned how to hold myself accountable for my work and to make sure that the work I'm producing is something I can be proud of.
The Writing Hub professional staff has honestly changed my life and taught me so much about being an adult and functioning in the real world - not through explicit lessons, but by your presence and random conversations. I really appreciate all of you and everything you and the Writing Hub have given me!