Our Approach
Core Principles and Practices
We base our work on 8 collaboratively-authored principles. View the full the Writing Hub Core Principles and Practices (PDF).
We help writers, not writing.

Writing is a

mode of thinking

.

We

value the diversity

of students' identities.

Their insights

, not ours.

Conversation

creates clarity.

We utilize four key strategies when working with students: supportive

reader's feedback

, asking the right

questions

,

prioritizing

feedback, and acknowledging weaknesses through

strengths

. 

We don't throw shade and

we don't give grades

. 

Students' work is their own

responsibility

.
Core Principles and Practices
How We Train Writing Consultants
Our ongoing consultant training program is interdisciplinary and dynamic. We believe that to best serve students, our Writing Consultants need a multi-faceted array of skills and knowledge, as well as the flexibility to adapt to a student's needs in real time during a consultation session. As a result, our training is informed by a variety of academic fields as well as local, campus-specific knowledge.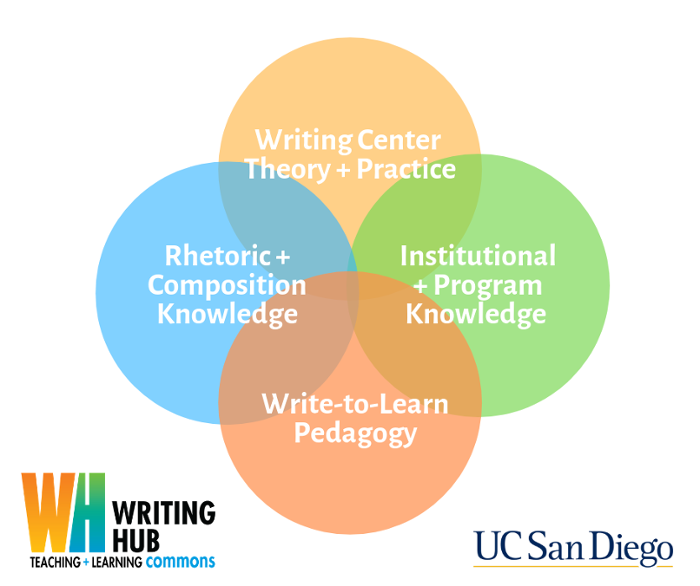 With over 70 hours of group-based training per year, as well as regular one-on-one training and feedback from Writing Hub staff, our student Writing Consultants are equipped with a substantial knowledge base to support student success. 
How We Think About Writing 
Writing is a Thinking Process
Many believe that writing is how you make a product that represents your thinking. People have thoughts, then write those thoughts down--thinking occurs first, writing occurs second, in a linear fashion. But at the Writing Hub, we believe that writing is a mode of thinking, not just a means of expressing thought. Writing is a mechanism for probing thoughts, encountering those thoughts on the page, evaluating those thoughts critically, and revising them accordingly. Thus, writing itself is a process that transforms what (and how) the writer thinks.
---
Writing Support Benefits All Students
We believe that learning to write in academic contexts is a long-term learning process for students of ALL linguistic backgrounds. One common misconception is that monolingual or "native" English speakers will produce more successful writing, and, therefore, that writing support is primarily for students who speak English as an Additional Language (EAL). But research shows that even "native" English speakers struggle to internalize the boundaries of academic writing. Thus, one-on-one writing support is beneficial for all writers learning to produce academic writing, though the nature and scope of those benefits vary for each individual student. 
---